Heating and mechanical plants
Design and test of air conditioning plants in winter and summer, health and fire escape systems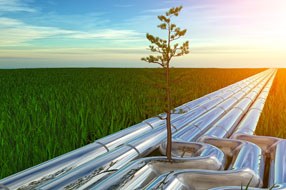 Heating and mechanical plants are also referred as air conditioning plants, health and fire escape systems.
Air conditioning plants developed quickly in the last years; they have to be correctly designed and realized in order to respect the laws, to obtain a good environmental comfort and the control of energetic consumption.
This field concerns 3 types of systems:
air conditioning in winter (air-heating) of rooms, using different types of production systems depending on needs and on end uses;
air conditioning in summer, with different systems depending on end uses and needs;
renewable energies systems, in particular heating solar systems and biomasses.
Fire escape systems are very important for safety, in particular in the activities where there are the greater risks of fire and that have to respect fire prevention inspections.
FAROGB & partners develops projects of new systems, the update and the change of heating and mechanical systems in public and private sectors, in industrial, tertiary and civil fields, attends to works supervision, develops the final test and manages the procedures to obtain funding and tax deduction.